The Covid-19 pandemic has brought to light healthcare inequities among the uninsured and underinsured, especially within American minority communities. Ensuring that these individuals receive care and protection against disease is a top priority among Community and Faith-based Organizations.  Although vaccine confidence has increased across all races/ethnicities as more Americans see their family and friends getting vaccinated, there is still a large percentage of individuals who are hesitant about receiving the vaccine. CBOs and Faith-based organizations have an opportunity to increase revenue, ease vaccine hesitancy and create long-term, trusting relationships with the clients they serve by communicating the facts and offering the Covid-19 vaccine. The Centers for Disease Control and Prevention (CDC), released a guide filled with helpful tips to help community partners increase Covid-19 vaccination among members of racial and ethnic minority communities.
Understand and define needs in the community
It is important that CBOs understand the needs of their communities. One of the major issues communities are facing is a lack of vaccine confidence.  People are fearful and unknowledgeable about vaccination details.  To help build vaccine confidence, the CDC recommends that CBOs produce culturally appropriate materials that are, "Clear, transparent, and consistent information that addresses specific misinformation or concerns, such as vaccine side effects or risk, and promotes the benefits of immunization." Producing effective, outreach materials can help ease fears and get more patients into vaccination sites.
The Kaiser Family Foundation interviewed more than 11,000 adults across the nation and found that Americans have similar concerns about getting vaccinated. Here are the top concerns among all ethnic groups:
Potential side effects of the vaccine — some are worried about missing work due to the side effects.
Lack of accurate information — some think they can get Covid-19 from the vaccine.  Others think that they will have to pay out of pocket for the vaccine.
Vaccine access — issues 

Taking time off from work
Transportation issues
Concerns about not getting the vaccine from a trusted place
Knowing the concerns of the general public across the nation helps CBOs understand how to successfully create materials that lay out the facts and eases worry.  CBOs are encouraged to mix up their message strategies to these individuals by creating a combination of information, outreach, and policies to strengthen vaccine confidence and make vaccination accessible across communities.
Identify strategies and interventions for confidence and access
Community partners have an opportunity to implement strategies and interventions to help drive Covid-19 vaccination.  The CDC stresses creating materials with specific, culturally appropriate information that addresses the community's needs. For instance, placing images of individuals who are representative of the community within flyers, social media, newsletters and other outreach materials help ease vaccine hesitancy.  Studies show that when individuals see others of their ethnicity group safely receiving the vaccination, they are more likely to receive it themselves.  Historically, racism and discrimination have contributed to mistrust of the medical system among racial and ethnic minority groups.  CBOs have a great opportunity to earn the assurance of these minority groups by using a trusted messenger of similar racial or ethnic groups to communicate vaccination facts and alleviate fears.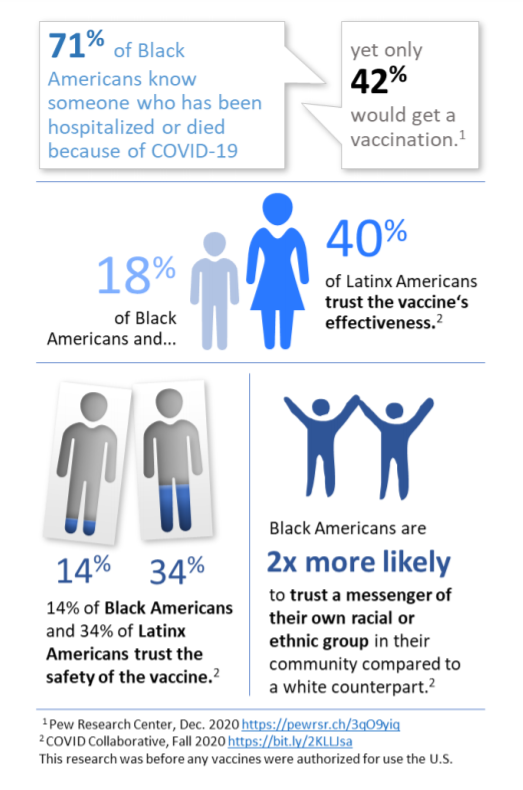 Implement and monitor strategies and interventions
Collecting data and real-time feedback directly from your community is priceless information that can help your facility to implement effective vaccination strategies and increase revenue for your organization. Community partners must swiftly utilize the collected data and real-time feedback from the community to address urgent Covid-19 needs.  CBOs are encouraged to use the available funding, Covid-19 vaccine supply, and non-monetary support from immunization programs, local health departments, or other partners who can help implement strategies and interventions. The CDC offers a free Community-Based Organizations Covid-19 Vaccine Toolkit to help educate your community about Covid-19 vaccines and address common questions.  The toolkit includes ready-to-use materials such as messages, posters, stickers, social media messages, and graphics in Spanish and English. The Ad Council has developed an array of free toolkits to assist with message guidance to help increase vaccine confidence in minority communities.  The tools will help community partners implement their personal strategies to attack vaccination hesitancy and build trust and long-lasting relationships.
American Exchange Can Help Your Community Partners
At American Exchange, we understand the strains put on community-based organizations due to the Covid-19 pandemic and we are here to take the stress off of your organization.
Administrative Services
American Exchange is a leader in helping local and state departments across the United States become mass immunizers.  We are committed to helping facilities find success through assisting with your Covid-19 billing needs.
Enrollments
Efforts put forth by the community and faith-based organizations to vaccinate minorities also present a great opportunity to assist these individuals to get enrolled in an Affordable Care Act (ACA) health plan.  By helping these individuals, you are building trusting, long-term relationships that can improve their quality of life and generate a steady revenue stream for your organization. 
Ultimately, we have connected more than 60,000 individuals to healthcare plans that fit their needs. Let us take some of the administrative burdens off the shoulders of your organization so you can focus on community outreach efforts.