Sexually transmitted infections (STIs) have reached epidemic proportions across the United States, according to the CDC's Sexually Transmitted Disease Surveillance, 2019 report. Like many states, California's rates are outpacing the national average for the top three infections: chlamydia, gonorrhea, and syphilis. The problem is especially serious in Los Angeles County, which leads the country in the number of reported cases for all three serious health threats.
A Look at the National Numbers
Just two decades ago, the incidence of STIs was at historic lows, especially for gonorrhea and syphilis. But that dramatically changed, especially over the past five years. According to the CDC data, which was collected from health departments in all 50 states and the District of Columbia between 2015-2019, the US experienced:
A 20% increase in chlamydia (1.8 million reported cases)
A more than 50% rise in gonorrhea (616,392 reported cases)
A greater than 70% increase of all stages of syphilis (129,813 reported cases)
Racial and Ethnic Minorities Hit the Hardest
The incidence of STIs is increasing across most age groups, especially youth aged 15-24. Racial and ethnic minority groups also contracting infections at higher rates (see Figure 1) :
Hispanic or Latino people were 1-2 times more likely to have an STI than non-Hispanic Whites
American Indian, Alaskan Native, Native Hawaiian, and Other Pacific Islanders had rates 3-5 times higher than non-Hispanic Whites
African American or Black people were 5-8 times more likely to have an STI than their non-Hispanic White counterparts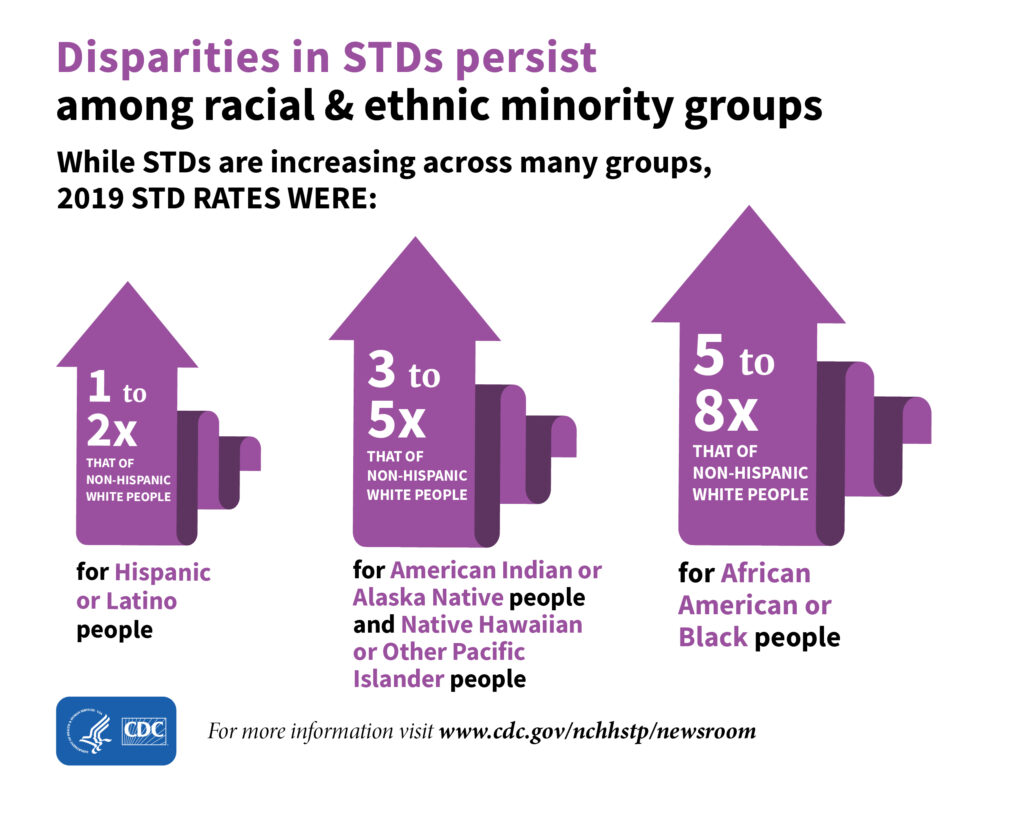 Rates of STI by Sex at Birth
Chlamydia was the most commonly reported STI in 2019; young women aged 15-24 accounted for 43% of the reported cases. Undiagnosed chlamydia can lead to severe health consequences, including infertility.
The CDC data showed that gonorrhea rates were 42 times higher among gay and bisexual men who have sex with men than their heterosexual counterparts. Men accounted for almost 83% of the primary and secondary syphilis cases reported.
Primary and secondary syphilis, the most contagious stages of the disease, rose 8% among gay and bisexual men who had sex with men. The CDC estimates that 44% of gay and bisexual men with syphilis also have HIV.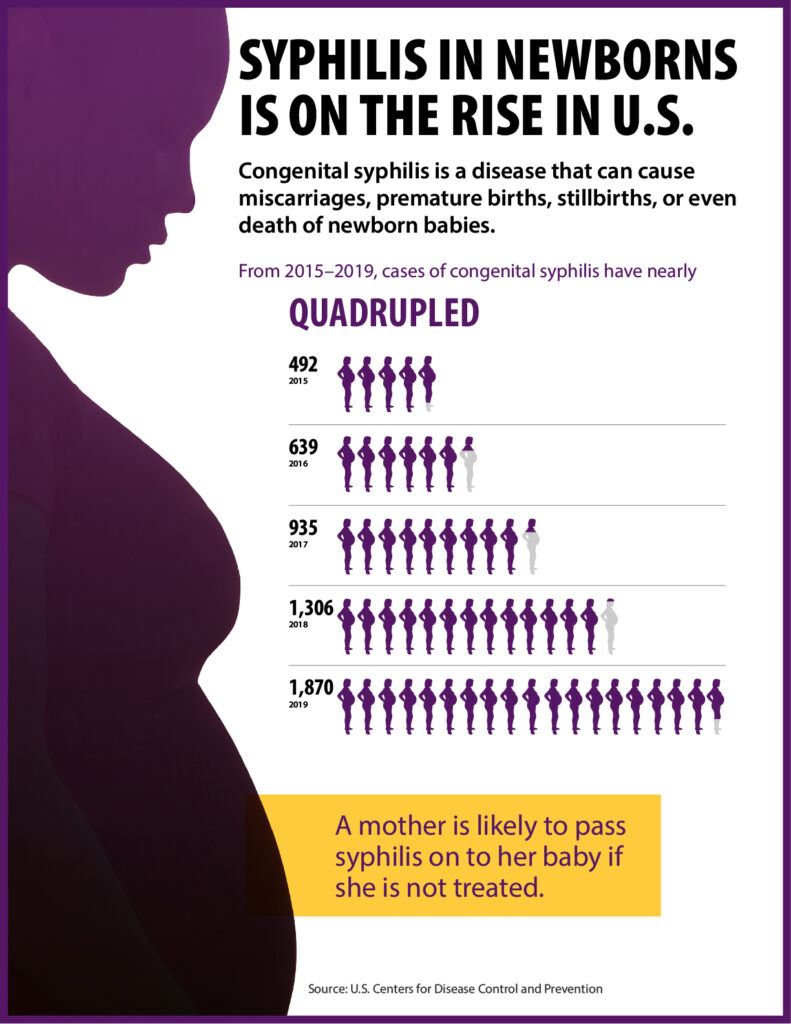 The 30% increase among women is also alarming because of the risk of infection to unborn babies. Congenital syphilis can cause severe health complications and death among newborns. In 2019, there were nearly 2,000 reported cases of congenital syphilis, causing 128 deaths. Since 2015, the rate of congenital syphilis nearly quadrupled (see Figure 2).
STIs Impact Counties throughout California
Despite Los Angeles County's number one ranking in all three STI categories, the state as a whole does not lead the nation in any infection rate. California ranks:
15th in chlamydia cases, with 236,719
18th in gonorrhea cases, with 80,301
4th in syphilis cases, with 8.266
The CDC ranked the top 70 counties/independent cities across the country for each of the three STIs. The following table shows the California counties that made the list, their national ranking in each disease category, and the number of reported cases.
Costs of STIs
According to the most recent cost data available from the CDC, in 2018, chlamydia, gonorrhea, and syphilis combined accounted for more than $1.1 billion in direct medical costs. Overall, STIs cost the US healthcare system $16 billion. The CDC included the costs for 8 common STIs: chlamydia, gonorrhea, hepatitis B virus (HBV), herpes simplex virus type 2 (HSV-2), human immunodeficiency virus (HIV), human papillomavirus (HPV), syphilis, and trichomoniasis. Chlamydia, trichomoniasis, genital herpes, and HPV when calculating the cost to the nation.
STIs pose a health risk to those who are infected, as well as to unborn children. They can have long-term health consequences like infertility and can facilitate the transmission of HIV. Many of the people impacted by STIs are homeless or are uninsured. Right now, thanks to the American Rescue Plan, many more people have access to affordable health insurance through the marketplace. With coverage, they could get care for all of the comorbid conditions, including substance abuse, HIV/AIDs, mental health, and maternity services. You can let these typically underserved individuals know about the availability of affordable Affordable Care Act (ACA) health plans as you ramp up your screening efforts, now that COVID restrictions are relaxing in many states.
Enrollment is open to states serviced through the federal Marketplace through August 15. States that operate their own exchanges have different timeframes. Fortunately, in California, eligible individuals can enroll through December 31, 2021.
American Exchange is Here to Help
American Exchange helps numerous community health organizations throughout the nation enroll Americans in ACA insurance plans. We leverage our knowledge of the marketplace, tax credits, premium subsidy programs, and other public programs, like Ryan White, to find affordable plans that meet the total healthcare needs of each enrollee. We work with translators speaking more than 100 languages to assist enrollees who speak languages other than English.
Enrollment and Billing Services
When your organization enrolls clients in ACA plans, you are not only improving the health of those individuals, you are creating a steady revenue stream that allows you to expand services and reach more community members. American Exchange can help you achieve both goals. We have successfully put more than 60,000 unique individuals and families on the road to good health by enrolling them in ACA health plans. For many, we maximize available premium subsidy and tax credit support to find them free or low-cost plans.
We don't stop there. We also help enrollees understand how to access the care they need to address comorbidities and improve their overall quality of life.
American Exchange can help your organization get reimbursed for the services you render to these newly covered enrollees. We can bill Medicare, Medicaid, TRICARE, and commercial insurers so you get reimbursed for the health services you provide.
HIV Subsidy Programs
STIs put people at risk for HIV. We specialize in providing enrollment and billing services to HIV subsidy programs across the nation. We've worked with Ryan White programs in Florida, Georgia, Illinois, Kansas, Mississippi, Missouri, New Hampshire, South Carolina, and Tennessee. American Exchange has connected more than 20,000 people living with HIV/AIDS to health plans that address all their medical needs, enabling them to adhere to medication regimens and live long and healthy lives.