Every year, Medicare-eligible beneficiaries have to decide whether or not to go with a Medicare Advantage plan or a Medicare Supplement policy; the two most commonly used options to replace or supplement Original Medicare. Everyone's health needs are unique, including your own, so below, we'll compare the similarities and differences to ultimately help you decide which is a better option for you.  
What's the main difference between Medicare Advantage and Medicare Supplement? 
Simply put, Medicare Advantage plans combine Medicare Part A and B, along with part D for more comprehensive coverage. They tend to resemble the  employer coverage you currently maintain. In contrast, Medicare Supplement policies cover cost-sharing expenses required by Medicare, such as copayments or deductibles, along with other costs that Original Medicare doesn't cover.  
Highlighted differences between Medicare Advantage and Medicare Supplement: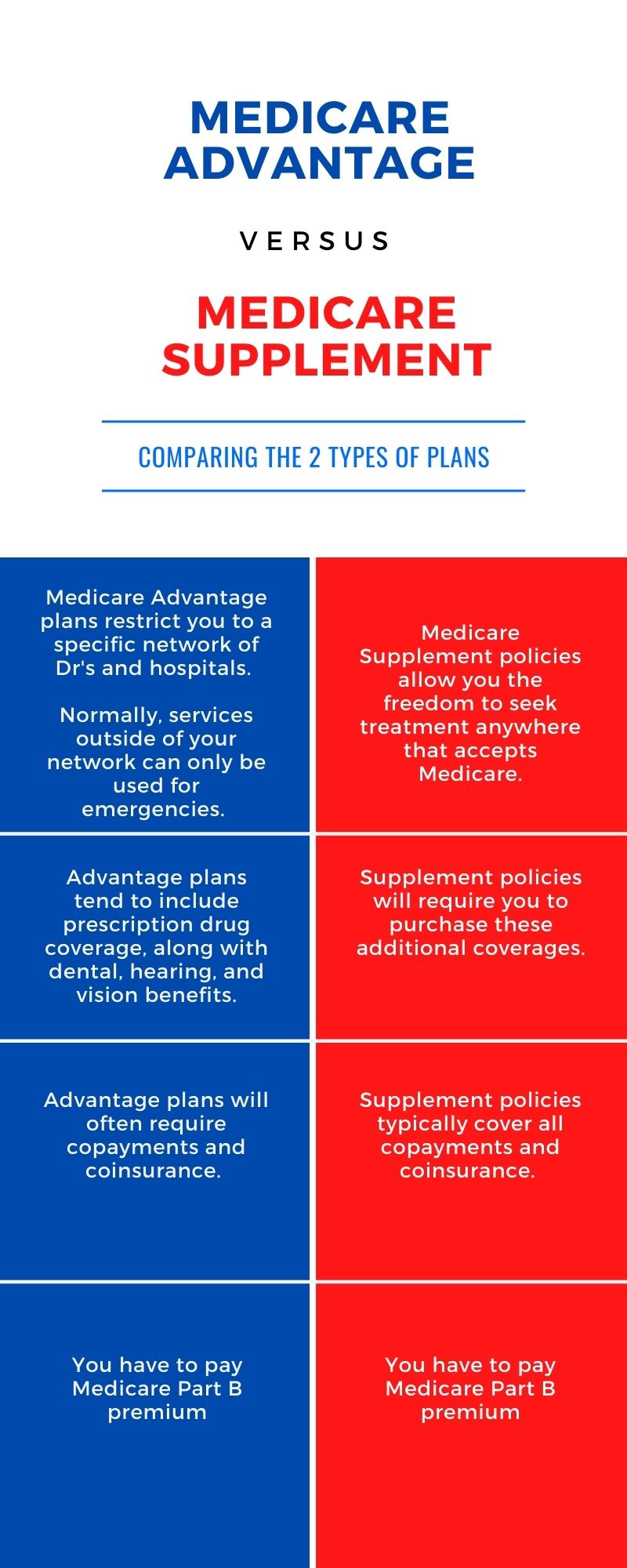 Is Medicare Advantage or Medicare Supplement better?  
Only you can decide which plan is best suited for your health needs. Although, there are some important factors to be aware of when choosing which type of plan to enroll into.
How much are you willing to spend on monthly premiums? 
Your monthly budget can be an important factor when deciding which type of  plan to go with. Medicare Advantage plan premiums are often much cheaper, but you pay as you go. This means you will have to pay copayments, coinsurances, and any other out-of-pocket expenses you may accrue while receiving healthcare  services. 
On the other hand, Medicare Supplement plans have a higher monthly premium but will leave you with little to no additional charges when maintaining your health. 
Do you frequently travel, or have multiple residences?
If you are one to travel a lot or have a summer house, Medicare Supplement  policies are the plans of choice since they do not limit you to a specific network of Dr.'s. Your only limitation is to see Dr.'s that accept Medicare, which is  most. Although, it should be noted that if you have a Medicare Advantage plan and you are outside of your network, most policies will cover you for any type of emergency services, but nothing more. 
Do you prefer your benefits rolled into one plan or separate?
Medicare Advantage and Medicare Supplements heavily differ when it comes to where you will be receiving your benefits. Advantage plans tend to simplify and create a more comprehensive structure of benefits for your needs. They often include a prescription drug plan, dental, hearing, and vision benefits. Sometimes they will even include added conveniences such as over-the-counter cards and  gym memberships.  
Although it may seem like a Medicare Advantage plan would be the obvious  choice, sometimes these added benefits do not provide enough coverage beneficiaries need in order to maintain their health. With a Medicare Supplement policy, you can purchase additional coverages with more in-depth services.  
Do you have specific health needs?
When choosing a plan, whether a Medicare Advantage or Medicare Supplement policy, you should verify that your specific treatment methods or medications are covered before enrolling. Certain procedures, services, or  medications may be fully covered under one policy but costly under another. 
American Exchange can help you find the best plan for your needs
If you don't want to sort through all the plans in your area or just want expert help, American Exchange is here for you. Our licensed insurance benefits managers can help you compare plans, prices, networks, formularies, and tiers. We can also let you know if you qualify for cost-saving programs. We do not work for an insurance company, so we compare all plans in your area at no cost or obligation to you. Contact us today.
1.888.995.1617 enroll@americanexchange.com
American Exchange is a licensed health insurance broker. Robert Huffaker, NPN 13568432