In Part 1 of this series, we discussed the rise in the number of HIV-reported cases among people who inject drugs. In this blog, we'll look at how the increase in substance abuse could lead to the further spread of HIV and the impact of intravenous drug use on overall health.
Substance Abuse is on the Rise throughout the US
40% of Americans reported struggling with mental health and substance abuse.
13% of Americans started or increased substance use as a way of coping with COVID-19.  
Mental health issues are disproportionately affecting young adults and Hispanics.
The SAMSHA data showed that high school Hispanic youths had the highest use of illicit drugs (16%) and opioid misuse (15.1%) compared to their high school peers of all races, who came in at 14% in both categories:
Hispanic 8th graders had the highest levels of substance misuse across all substances compared to Whites and African Americans.
More Hispanic 8th and 10th graders reported heroin and prescription opioid misuse than White and African American peers.
Research has linked prescription opioid abuse to heroin use, including a study conducted by the National Institute on Drug Abuse on high school students in the Los Angeles area. The use of intravenous drugs like heroin increases the risk not only for HIV but for other health conditions.
The Impact of Age on the Spread of HIV Among Intravenous Drug Users
People aged 13-34 made up nearly half of all new HIV diagnoses among intravenous drug users in the US and its territories (see Figure 1).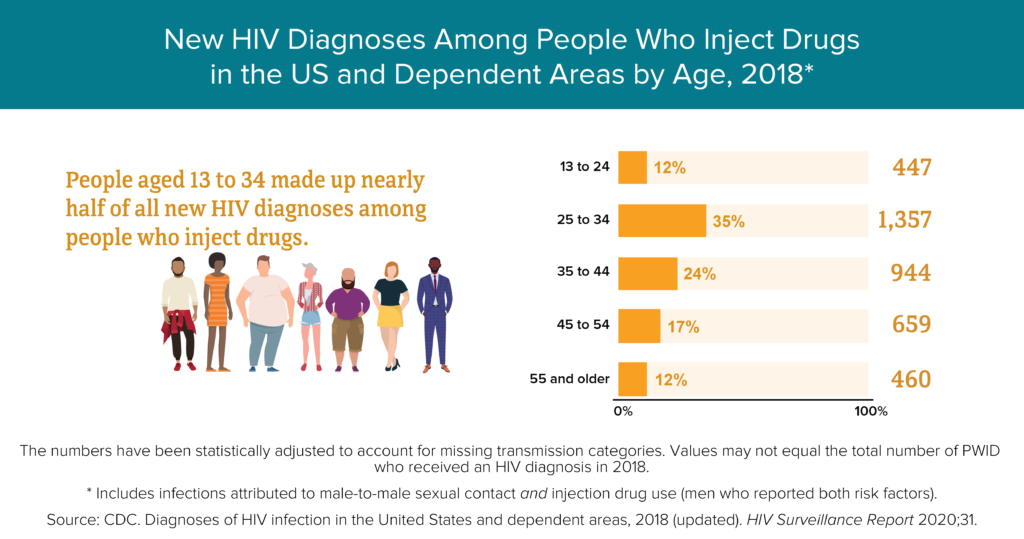 This trend could negatively impact efforts to end the HIV/AIDs epidemic by 2030 because young people who inject drugs are more likely than older counterparts to:
Have sex without condoms
Have more than one sexual partner
Have sexual partners who also inject drugs
Share syringes:

48% between the ages of 18-24 shared syringes
44% between the ages of 25-29 shared syringes
39% between the ages of 30-39 shared syringes (CDC).
These behaviors could be putting them at higher risk of getting and spreading HIV.
New Cases by Sex and Race/Ethnicity
Among intravenous drug users, men had the newest HIV diagnoses in 2018 (see Figure 2), but as we saw in the West Virginia clusters, the number of infected female users who inject drugs is on the rise.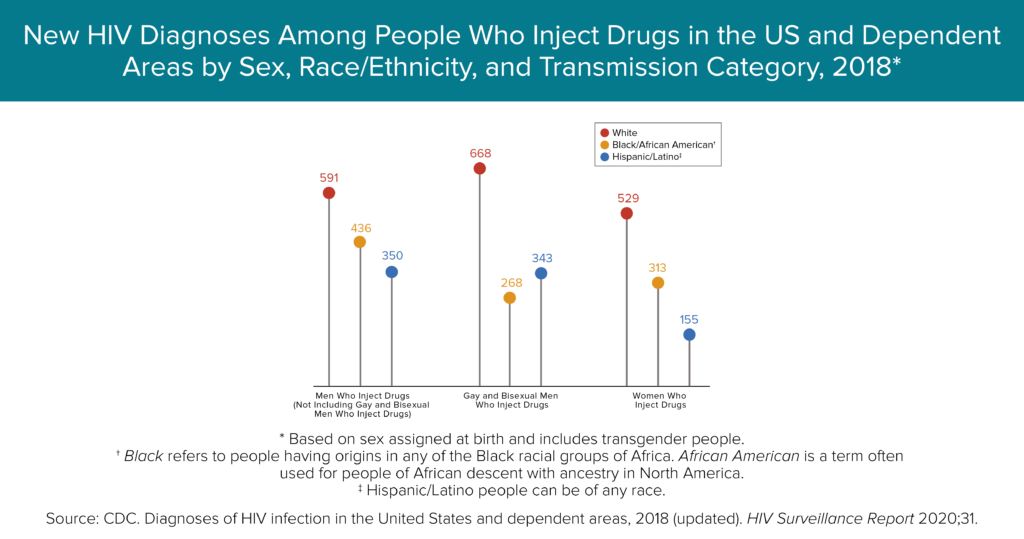 Location
The opioid and heroin crisis has disproportionately affected nonurban areas, where HIV prevalence has historically been low. Rural areas typically do not have all the necessary resources in place to effectively prevent or treat HIV and substance abuse. This is especially concerning because intravenous drug use causes so many other health issues.
The Impact of Intravenous Drug Use on Health
People who inject drugs are not only at high risk for getting HIV, they are at increased risk for many serious, life-altering diseases, infections, and complications, including:
Sexually transmitted infections(STIs)
HIV
Hepatitis B and Hepatitis C
Bacterial infections, like endocarditis and methicillin-resistant staphylococcus aureus
Community-acquired pneumonia
Other pulmonary complications, including opioid-associated pulmonary edema and asthma
Skin and soft tissue infections.
Many of these conditions are treatable or can be controlled effectively with medication when caught early. But 21% of intravenous drug users with HIV don't have health insurance (CDC). This leads to a lack of treatment or fragmented care.
To treat the mental and physical healthcare needs of these individuals, they need access to comprehensive healthcare coverage. The American Recovery Plan, with its expanded subsidies, enables low-income Americans to get comprehensive healthcare coverage through Affordable Care Act (ACA) marketplace plans. These plans allow all of their healthcare needs to be met, including substance abuse, HIV/AIDS, mental health, and comorbid medical conditions. The extended open enrollment period, which runs until August 15, is the opportune time to get all eligible Americans enrolled in healthcare plans.  
Community-based organizations are uniquely situated to identify the individuals who are eligible for healthcare coverage under the expanded plan. As substance abuse outreach and HIV testing efforts ramp up, you can identify those without insurance and help get them enrolled. If you are providing the COVID vaccine, you can provide enrollment information to those without health insurance. And if you aren't currently offering vaccination services, you can become a mass immunization site and reach community members who might not otherwise have access.
American Exchange is Here to Help
Community organizations have limited resources. By partnering with American Exchange, you can focus your efforts on outreach and providing care.
Enrollment and Billing Services
When your organization enrolls clients in Affordable Care Act (ACA) plans, you are not only improving the health of those individuals, you are creating a steady revenue stream that allows you to expand services and reach more community members. American Exchange can help you achieve both goals. We have successfully put more than 60,000 unique individuals and families on the road to good health by enrolling them in ACA health plans. We also help them understand how to access the comprehensive care they need to address comorbidities and improve their overall quality of life. And we help numerous public health agencies bill Medicare, Medicaid, TRICARE, and commercial insurers get reimbursed for the health services you provide.
Subsidy Programs
We specialize in providing enrollment and billing services to HIV subsidy programs across the nation. We have worked with Ryan White programs in Florida, Georgia, Illinois, Kansas, Mississippi,  Missouri, New Hampshire, South Carolina, and  Tennessee. We've connected more than 20,000 people living with HIV/AIDS to health plans that address all their medical needs, enabling them to adhere to medication regimens and live long and healthy lives. 
COVID Administrative Service
American Exchange is helping state and local health departments across the country become mass immunizers. We are a leading provider of COVID administrative support services, helping state and local health departments and community organizations like yours. We can assist you in becoming a mass immunizer and can bill for vaccine administrative services.