Now is the time to get an affordable health plan through the Affordable Care Act (ACA) marketplace. Open enrollment runs until January 15, 2021:
If you enroll by December 15, your coverage will start January 1, 2022. 
If you enroll between December 16-January 15, your coverage will start February 1, 2022. 
You Could Get Help Paying for a Plan
The American Rescue Act makes health insurance more affordable this year. More people qualify for coverage and you can get more help with the costs. Depending on your modified adjusted gross income, you could get a tax credit to pay some or all of your monthly premium costs. You could also get help paying out-of-pocket costs like deductibles and copays.
The help you get is based on where your household income falls on the federal poverty level (FPL) chart (see graphic to the right). If you live in Alaska and Hawaii, your levels are different from those shown in the chart.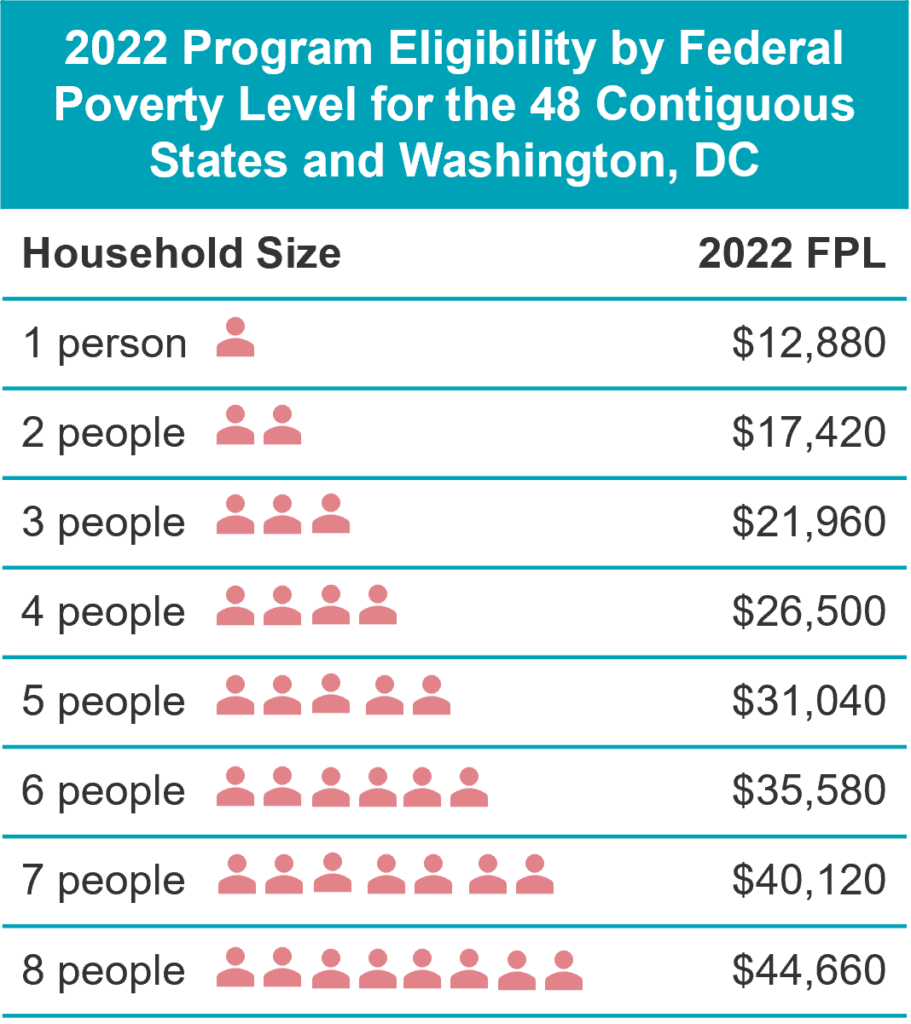 Here's how it works. If you income is:
Above 400% FPL, you may qualify for tax credits that lower your monthly ACA health plan premium.
Between 100% and 400% FPL, you qualify for premium tax credits that lower your monthly plan premium.
Income below 138% FPL and your state has expanded Medicaid coverage, you qualify for Medicaid based only on your income.
Income below 100% FPL, you probably won't qualify for savings on an ACA marketplace health plan or for income-based Medicaid.
What You'll Need Before You Enroll
Before you enroll, have a good idea of what your household income is so you can see if you qualify for tax credits or cost-sharing subsidy to reduce your costs.
---
Download our ACA Enrollment Checklist to help you get ready to enroll.
---
Help Enrolling in an ACA Plan
There are a few ways you can see if you qualify, find out how much financial help you will get, and enroll in a plan. If you want help, you can contact:
Health insurers in your area:
An insurer will only sell you plans offered by their company. You won't be able to compare costs across different insurers or see what other plans may cover.
Health navigators:
They can give you unbiased help to select a plan, but they don't have in-depth training or understanding of the health insurance industry. They also have limited access to plan information.
Licensed agents or brokers:
Agents and brokers are unbiased experts in all types of ACA plans available to you. They:
Know the key differences between health insurers, networks, and prescription drug formularies.
Have access to more information to help you make a more informed decision about your coverage.
Ensure you get a tax credit or subsidy if you qualify, which lowers your costs.
Identify other programs you may be eligible for, like Medicaid, Medicare, or Veterans' Affairs.
You can enroll yourself by going to healthcare.gov or your state exchange.
American Exchange is Here to Help
American Exchange's ACA-licensed health insurance brokers help individuals and families like you enroll in marketplace plans and get all savings they qualify for. Our services are free.
Our brokers ask you questions so we understand your healthcare costs, what doctors and pharmacies you use, and any other needs you have so you can get the best plan for you and your family. We're also here all year to answer your questions and help you get the care you need.
Call our experts to get a quote or enroll in a plan:
Monday through Friday from 8:00 a.m. to 8:00 p.m. Eastern Time
Saturday 8:00 a.m.to 5:00 p.m. Eastern Time
Sunday 12:00 p.m. to 5:00 pm. Eastern Time