Billing for COVID-19 vaccine administration has become a critical revenue source for health departments and community-based organizations throughout the nation. As more organizations are delivering the COVID-19 vaccines to high-risk minority and rural individuals, it is important to capture all the information you need to get reimbursed for efforts.
American Exchange has been helping community health organizations become mass immunizers and bills for each vaccine administered. Remember, you can't charge patients for the vaccine, but you can charge to administer the vaccine.
Tips to Maximize COVID-19 Vaccination Reimbursement
We've put together four tips to help your organization maximize the revenue you can get from COVID-19 vaccine administration:
Have a process in place to collect insurance information prior to or at the time of appointment.
Make sure each patient with healthcare coverage signs a consent to bill form. You should get this prior to or at the time of service.
You will need to collect insurance information from everyone who has coverage and signs the consent to bill form.
For anyone without insurance, get a signed attestation of no insurance prior to or at the time of service.

Funding for COVID-19 vaccine administration for the uninsured is available through the Health Resources and Services Administration (HRSA), subject to availability. Funding is also available for testing and treating uninsured people with COVID diagnoses after February 4, 2020.
How Much Revenue Could My Organization Generate?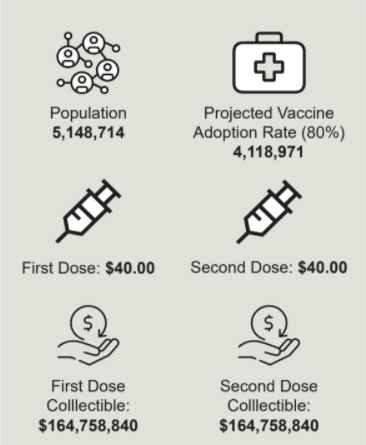 Beginning March 15, the reimbursement rate per dose of COVID-19 vaccine administration averages $40. For example, if your health organization serves a population of 5,148,714 and you vaccinate 80% of the population, that's 4,118,971 individuals. You could generate more than $329k in revenue, enabling you to offer additional services or reach more community members.
Don't miss out on this great opportunity to better serve your community. American Exchange can help your organization apply to become a mass immunizer, credential your providers so you can bill insurers for services rendered, and handle all your billing tasks. Our expert medical coders have a clean claims rate of 98%.
Put American Exchange to work for you to get your high-risk community members vaccinated and bring in revenue for your health organization.
Call 888.995.1674 or email info@americanexchange.com today!