American Exchange is proud to be a sponsor of the Heroes Outpost at the 2021 RSM Classic being held from November 15th through November 21st.
As a thank you to all of the local healthcare heroes, frontlines, and military we are giving away FREE TICKETS to this event, hosted by Davis Love III. All tickets are available to any healthcare workers or hospital administrators in the Georgia area.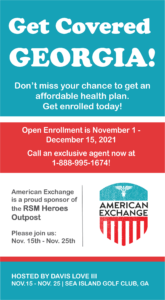 Once you claim your free tickets, be sure to swing by and chat with us at the Heroes Outpost located on the 9th green at Sea Island Golf Club. We'd love to hear about the opportunities you and your practice have to increase administrative and clinical output by solving for uncompensated care and increasing paid claim volume.
American Exchange offers unique solutions to your clinic or practice's greatest needs involving health care enrollment, continuity of coverage, credentialing, medical billing/coding, and overall revenue cycle management.
We'll be reaching out to local Georgia healthcare stakeholders this week and next to offer you tickets to this awesome event, but you don't have to wait for us; feel free to reach out to us today to claim your free tickets by calling 1-888-995-1674 or by emailing sales@americanexchange.com!
We hope to see you there!
What: RSM Classic PGA Golf Tournament
When: November 15 – 21
Where: Sea Island Golf Club, GA